About Us

VOTED BEST FLORIST IN YOLO COUNTY!

FOURTY YEARS OF HOMEGROWN BUSINESS SENSE

Strelitzia Flower Co. began as a simple "bucket stand" in 1971. To pay for his education at UCD, Dean Labadie, married, and with his first of two daughters, Thea and Kristin, on their way, took a friend's advice and began selling flowers to students on campus. At the time Dean was driving around in a truck selling produce to the locals between classes. That was over 46 years ago and Dean has had very few regrets.

Building a business from the ground up in Davis would require an enormous amount of dedication and flexibility. Dean felt he knew his community and made sure their needs were met. Fresh flowers with a wide selection was always his course. At the time, a typical florist shop would be very ridged in their format. Roses, carnations and mums arranged in a pat formula was the resounding theme.

Dean's concept was to give the customer access to the product much like flower sellers in Europe do. Full buckets of the best product available, displayed in an open style market with every variety and color of flower being sold to the customer one stem at a time. It's a fresh, wild, almost Monet-esque approach to floral design and it has served Strelitzia Flower Company well for more than three decades.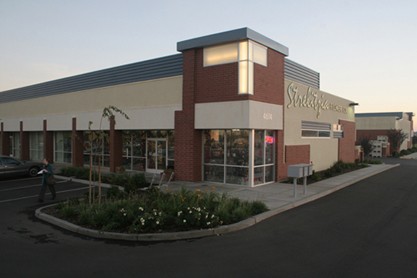 Today you can still go to either location, Davis or Woodland, and browse throughout the oversized refrigerator box collecting just the right flowers for your taste and desire. Dean continues to understand the customers need to have input into what pleases them or the recipient they had in mind. "Hands on" is Dean's style of marketing and ownership.

After 22 years of buying flowers from the San Francisco Flower Market, Dean and his wife Janice took a leap. They stopped the three nights a week (2 am to 8 am) trek to the city and hit the road to the coast. It was the farms they wanted access to. They began an overnight buying trip from Davis through the city, down Hwy 1, through Half Moon Bay, to Socal, Aptos, Watsonville, Pajaro, Aromas, Gilroy, Modesto and home. They knew the product would be fresher - sometimes even waiting for an old truck to drive up from the field with the fresh cut baby's breath. The improved variety, quality and longevity of the product they discovered was striking. And, having gone through this effort to go and get the best product, it was a given that the prices would be far lower than the S.F. Market. They have been doing a once a week, over night coast run for 15 years now and pride themselves in passing that savings on to the customer.

COMMUNITY AND COMMON SENSE

Dean and Janice Labadie take to heart a commitment to give back to their community. In all those 36 years of business, it is Strelitzia Flower Company who leads the way in putting the product where it is needed. From the beginning, complementary corsages and boutonnières have been given to residents at the convalescent homes in Davis and Woodland. Today, a sophisticated system of tracking all donations, giving priority to seniors, schools and non-profits, leaves Strelitzia Flower Company with an average donation of $22,000 of retail product annually. All of the donations are handled with TLC because Dean and Janice truly believe in the benefit a simple floral donation can bring to any community event.
Dean and Janice not only dedicate funds for the myriad of needs in Yolo County, but they also put their time where it counts, too. Dean is a member of Rotary Club of Davis while Janice is involved in Soroptimist International of Davis. Both have served on boards and committees of various non-profits in Davis and Woodland for many years. Both have served as catalysts in affecting increased visibility and positive change for local and global societal challenges. The owners and the company are genuinely defined as true contributors to their community.

Excitement abounds for the future of Strelitzia Flower Company. ...
How do you like it? Please don't hesitate to interact with Strelitzia Flower Company's web address. Your comments are very important to all of us at Strelitzia. Along side Dean, Janice, and Manager each of our highly trained and friendly staff welcome your thoughts.